Doug MacLeod Workshop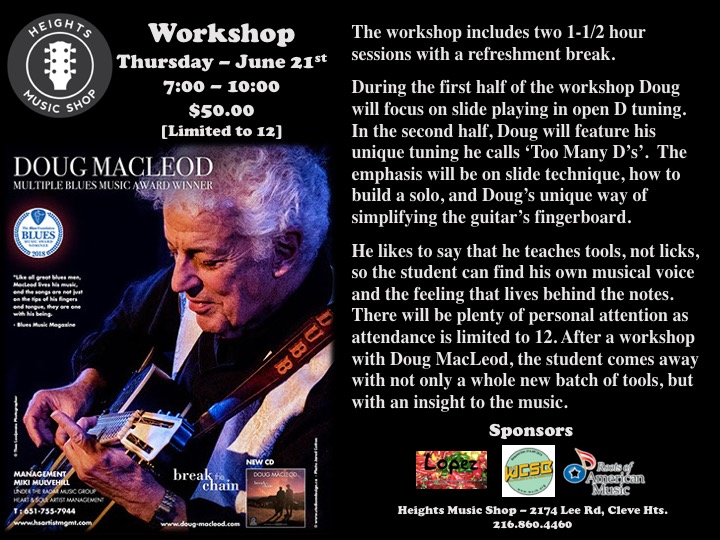 Thursday, June 21st, from 7:00 to 10:00.  A great opportunity to build your slide technique. 
Workshop Fee: $50.00
 A Bit about Doug:
Doug MacLeod, a prolific singer, songwriter, engaging storyteller, and masterful guitarist, was born in the blues, and is rooted in the American tradition. MacLeod is a perennial Blues Music Award nominee and multiple Blues Music Award winner. He recently won the 2017 Blues Music Award for Acoustic Artist of the Year and the Blues Blast Music Award for Male Artist of the Year. He has been nominated for two 2018 Blues Music Awards: Acoustic Artist Of The Year and Acoustic Album Of The Year - Break The Chain.
Doug is one of the last true bluesmen who learned from the old masters. His songs have been recorded by blues giants like Albert Collins and Albert King. Bill Dahl of Living Blues says, "Cross an extraordinary acoustic blues guitarist with a savvy singer-songwriter and you've got Doug MacLeod."
In concert, Doug engages the audience with stories of his long career that blend seamlessly into his spellbinding songs.